San Francisco to Los Angeles Bike Trip
In June 2007 I bicycled from San Francisco to Los Angeles along the Pacific Coast Bicycle Route. I used the maps from Adventure Cycling as well as the book Bicycling the Pacific Coast (NB: the book has great commentary and a good breakdown of the route into manageable days, but the Adventure Cycling maps are more accurate and up-to-date).
This map outlines my overall route by highlighting where I stopped each night. (Click on any of the blue pushpins to see details about each stop.)
Below is a day-by-day breakdown of the trip. On each day I bicycled an average of about 65 miles spread out over the entire day (with ample time for other activities in between--usually involving food!).
Date

Day

End at

Mileage

Tuesday June 12

1

Santa Cruz

93.23

Wednesday June 13

2

Monterey

47.57

Thursday June 14

3

near Lucia

64.61

Friday June 15

4

San Simeon

44.59

Saturday June 16

5

Pismo Beach

69.28

Sunday June 17

6

near Santa Barbara

83.69

Monday June 18

7

Ventura

56.66

Tuesday June 19

8

Los Angeles

62.56

522.19
Day 1: San Francisco to Santa Cruz (93 miles)
I intentionally arranged the trip so that the first day would be the longest (I wanted to take advantage of my initial excitement to propel me out of the Bay Area as quickly as possible). The day began with a ride that I have done many times, a quick jaunt through Golden Gate Park to the Great Highway, which runs along the ocean in San Francisco.
One of the first major hills is a climb to Devil's Slide, a notorious part of Highway 1 near Pacifica where slides cause frequent and extended road closures. Passing by the slide area, it certainly looks like the side of the cliff is going to slide off any minute! But the ocean view during this descent is beautiful (a recurring theme of the trip!).
After lunch in Half Moon Bay I continued down Route 1 and discovered that there are literally no towns between Half Moon Bay and Santa Cruz except for Davenport, a tiny (pop. ~300) town with a huge (100 ft. tall?) structure in the middle. When it first appeared in the distance, I spent the next 20-30 minutes of riding trying to figure out what it was; it wasn't until I saw "Cement Plant Rd" that it became clear what it was.
On this first night I stayed at New Brighton State Beach, a campground near one that I have stayed at several times (Manresa State Beach). It was my first time in a "hiker-biker site," which are special campsites set aside for campers that do not arrive in a motorized vehicle. In contrast to the regular campsites (usually around $25/night), the hiker-biker sites are only $5/night and require no reservations. They are particularly well-suited for a trip like this; during the trip I generally didn't have to decide where I would stay until I actually pulled into the campground.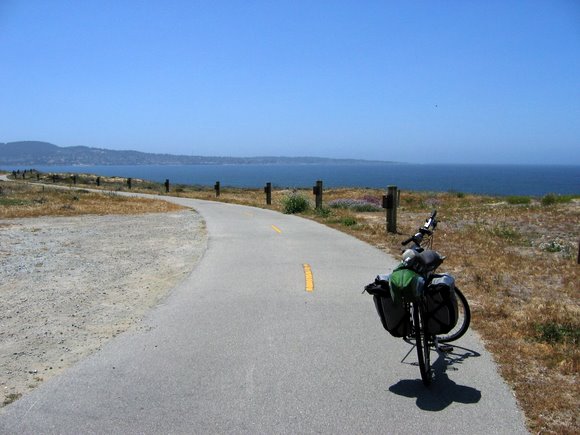 A bike path along the ocean, with Monterey in the background.
Day 2: Santa Cruz to Monterey (48 miles)
The terrain in Day 2 was generally fairly flat, but starting out in the morning I was frankly still exhausted by the monster ride from the day before (almost 40 miles longer than any ride I had previously done!). Still, the flat terrain served as a nice recovery day from the day before. Mostly it was through farmland, although the last part of the ride was on a bike path that ran along the coast.
By the end of the day I was tired despite the lack of challenging terrain, and I noted on the map that the park I would be camping at, Vets Memorial Park, was close by. However, I arrived at what I thought was the park entrance only to discover that the park was actually up a huge hill--not what I had anticipated (or wanted) at the end of the day!
Both the book (Bicycling the Pacific Coast) and the Adventure Cycling maps have elevation profiles indicating where the hills are (and how high they are). One thing I began to disccover--starting on that second day--is that neither elevation profile was particularly accurate. They even disagreed with each other! (A cyclist I met later in Big Sur suggested that the handheld altimeters that they may be using can be distorted significantly by the wind as you ride down a hill.) I eventually realized that I had to take on more of a zen-like "what will be will be" attitude towards the hills.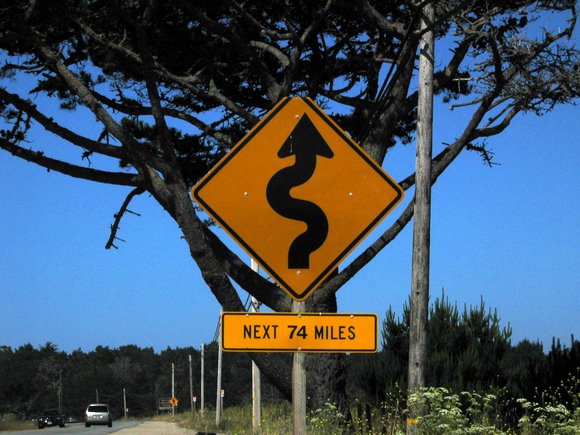 An omnious road sign seen as I was leaving Carmel on my way to Big Sur.
Day 3: Monterey to near Lucia
This was the first of two days cycling through Big Sur. This stretch of Route 1 is what I think of when I think of Route 1: a hilly road winding around large cliffs for miles and miles, set against spectacular scenery. And honestly, when I started out on this stretch of road I wasn't completely sure that I would make it. But the blue (!) water crashing against the cliffs is really stunning, and before long I was focusing more on the beauty of my surroundings than on the difficulty of the terrain.
One thing I read (and heard) before the trip is that the Pacific Coast Bicycle Route is "designed" to be traveled from north to south, for two main reasons. First, in the summer the wind blows from north to south. (I didn't always find this to be true on my trip, but it was certainly true more often than not.) Second, the shoulders along the side of the road (where I would cycle when there was no bike lane or bike path) are generally more generous in the southbound direction. It occurred to me while I was riding this section of the coast that riding in the southbound direction also meant that falling off my bike would result in falling directly off the cliff into the ocean (instead of just falling onto the side of the road). Of course, it also meant that the beautiful ocean scenery was that much closer.
Since I didn't bring cooking supplies with me, I usually ate in cafes or restaurants (preferably someplace outside where I could also keep an eye on my bike). Since I usually got on the road by 8 or 8:30 in the morning, I would frequently be ready for "dinner" by 4 PM, and so I often tried to find a restaurant or cafe near the campground I would be staying in that night. Unfortunately, this plan posed a problem on Day 3 because the campground I planned to stay in, Kirk Creek Campground, was literally in the middle of nowhere. So on that night I ended up purchasing some easily-assembled groceries in Lucia, a town a few miles from the campsite, and then haphazardly attaching the grocery bags to my bike (and affixing a jar of peanut butter to my tent using a bungee-cord!). I was quite a sight as I flew down the hill towards Kirk Creek with grocery bags waving in the wind!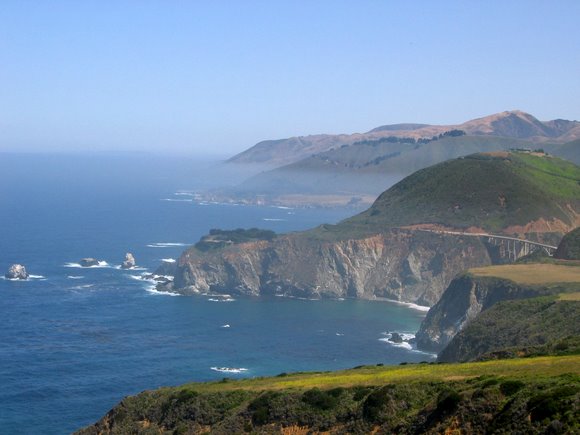 Cliffs along the ocean in the Big Sur area.
Day 4: Near Lucia to San Simeon
This day neatly divided into two halves. Before lunch I spent the morning making my way through the rest of the Big Sur area, finishing up with two monster hills. I stopped for lunch in Ragged Point (see the picture of the gas station in Ragged Point below!), which was halfway down the second of these hills. At the bottom of these hills, the terrain became much flatter. Surprisingly, I missed working my way through Big Sur, because with the flatter terrain came a moderate headwind that prevented me from making quick work of the flat terrain. To make things worse, the sky was cloudy for most of the afternoon, making the afternoon ride somewhat dull. (The sky was even too cloudy for me to see Hearst Castle as I passed by on Route 1.)
Since I arrived in San Simeon at 2 or 3 PM, I considered continuing on to San Luis Obispo, but I was concerned that I might not make it before dark. (I have good lights on my bike and frequently bike at night at home in San Francisco, but I didn't want to be biking alone on an unfamiliar road at night during the trip.) So I instead had a leisurely dinner in San Simeon and then pulled into the campground at San Simeon State Park (a workable campground, but a little too close to the highway for my taste).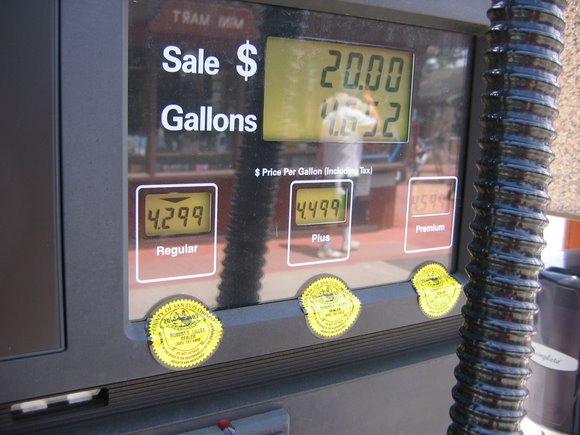 The gas station in Ragged Point provides a quick lesson in "supply and demand."
Day 5: San Simeon to Pismo Beach
I was eager to leave the campground at San Simeon State Park, so I got an early start. The hills were rolling throughout the first 30 miles; I must have been getting in shape by that point because I was moving quickly and easily through the rolling terrain. For lunch, I stopped in Morro Bay, a small beachfront community where I spent as little time as possible once I discovered the first of many signs indicating something about a siren warning system for a nearby power plant.
After lunch I ventured through a series of back roads towards San Luis Obispo. In SLO, I stopped at a bicycle shop where I had my chain replaced (it had rusted to the point that I was concerned that it might break) and got some advice on how to better inflate my tires (the guy at the bike shop suggested inflating the back tire to near its maximum capacity since I was carrying such a heavy load in the back). I followed another set of back roads out of town and towards Pismo Beach.
There was a carnival atmosphere--and tons of people--in Pismo Beach because of a car show that day, and I considered sticking around for a while to see what all of the fuss was about. But I thought that I'd better get to the campsite to claim a spot for my tent; the campsite was only a few miles away so I figured I could always come back later if I wanted to.
But upon arriving at Pismo State Beach I was informed that the hiker-biker site had been closed--and had been closed for quite some time. The person at the front gate said that she still had 2 campsites left (only 2 because of the car show) but that I would have to pay the full fee. However, she indicated that she thought that nearby Oceano Campground might have a hiker-biker site. I decided to check it out and take the risk that these 2 campsites might be gone when I returned. This set in motion a wild goose chase around town to several neighboring campgrounds (no one actually had a hiker-biker site, but everyone thought that campground X or Y did). I eventually returned to Pismo State Beach and was able to snag the very last campsite. (The downside of a non-hiker-biker site, besides the price, is that your neighbors often have RVs; one of my neighbors at Pismo State Beach played loud Toby Keith music late into the night.)
I had read that many hiker-biker sites in Southern California were undergoing changes (or closures), so I decided to compress my last 3 days of biking into 2 and stay in a motel on my last night. (As a bonus, of course, this would be a nice break from camping.) This wouldn't make the riding days much longer, since the planned route for the last day (from the Ventura/Los Angeles county line to Santa Monica) was short anyway. Luckily, Rori was able to book a Motel 6 for me in Ventura that I would stay in on Day 7.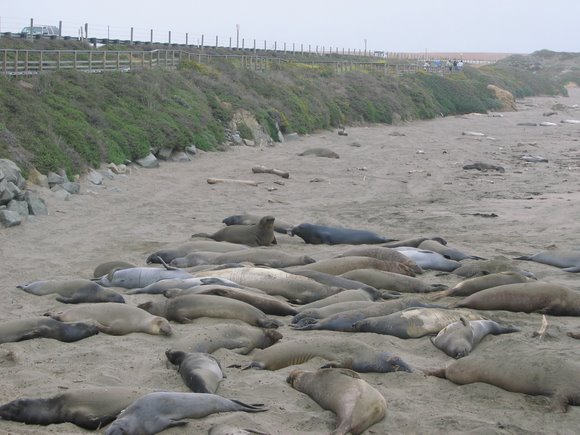 Elephant seals hanging out on a beach near San Simeon.
Day 6: Pismo Beach to near Santa Barbara
Day 6 contained the last big hills of the trip--two ~1000 ft. hills to get in and out of Lompoc, a small city about 30 or 40 miles outside of Santa Barbara. The ride to get to the first hill was long and tedious--and through a stretch of road that went through two very tiny towns. (The dreary weather that morning didn't help either.) But as I approached the hill into Lompoc, the clouds lifted and the sun started shining. As I turned onto the road that would lead up the hill, I met several other cyclists that were part of a local riding club; they had biked to a neighboring town for breakfast and were on their way back to Lompoc. We climbed the hill into Lompoc together and chatted while catching our breath at the summit.
After lunch in Lompoc, I rode out of town to conquer the last big hill of the trip. Although (according to one of my elevation profiles, at least) it was the largest hill of the trip, one of the cyclists I had met earlier in the day told me that it wasn't a bad climb, despite its "scary" appearance on elevation profiles. The reason was that the climb is spread out over more than 10 miles of up-and-down (but eventually mostly up). Like many of the inland sections of the trip, it was very hot, but the scenery was also an interesting change from the coastal views. And like most big hills, the ride down was a lot of fun--my bike reached speeds of 30-40 mph going down!
One quirky aspect of the Pacific Coast Bicycle Route is that there are a couple of sections on the route that are actually on the freeway. After descending the big hill coming out of Lompoc, I rode down an on-ramp onto US 101, the major freeway heading south towards Santa Barbara. It's certainly a strange feeling riding a freeway on-ramp on a bike! Luckily, the vast majority of the freeway riding is on generous shoulders (which seemed to have been paved even more recently than the rest of the road).
On the advice of the cyclists I met in Lompoc, I skipped Gaviota State Park (the campground I had originally planned to stay at) and rode the extra 10 miles down 101 to Refugio State Beach. I was glad that I did; as promised, Refugio was a beautiful campground, with palm trees along the campground and a hiker-biker site about 30 feet from the beach. At the campground I met a cyclist from New Zealand who was in the process of riding the entire Pacific Coast Bicycle Route (from Vancouver to the Mexican border)! We would later see each other a couple of times on the road the next day on our way to Santa Barbara.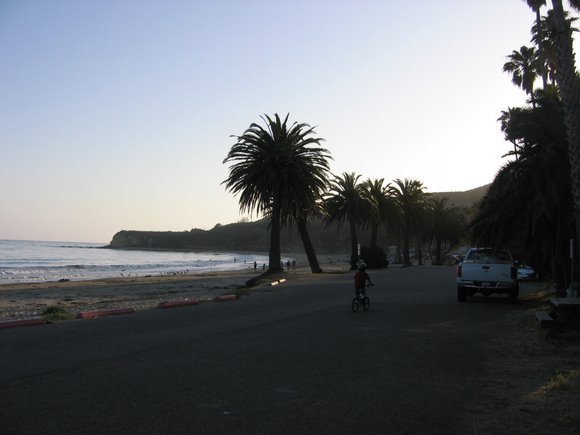 The Refugio State Beach campground at sunset.
Day 7: Near Santa Barbara to Ventura
The ride from Refugio through Santa Barbara to Ventura had by far the flattest terrain of the trip, so it was an easy ride. The middle of the day was spent riding along back roads through Santa Barbara and Carpenteria. By this point it was really beginning to feel like Southern California, right down to another stretch of riding on the freeway near Ventura. (There is actually a 5 mile section of 101 near Ventura--a limited-access freeway--that has a bike lane!) After leaving the freeway I rejoined Route 1 as it passed by numerous public beaches and beach homes. Finally, I rode along a long bike path in Ventura that runs along the beach for several miles.
In Ventura I checked into the Ventura Beach Motel 6 (luxurious, compared to my previous six nights' accommodations) and generally taking the afternoon to relax. I spent some time walking around Ventura (which, I discovered, made me somewhat of an oddity--most people were driving and few are walking), watched a movie on TV (another foreign activity after a week on the road), and then went to bed early to prepare for the "home stretch" ride early the next morning.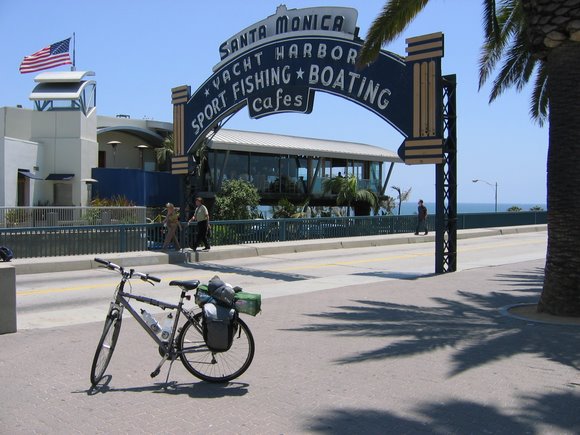 The finish line: Santa Monica Pier.
Day 8: Ventura to Los Angeles
One of the best parts of this trip was the fact that I was able to go to sleep early (and fall asleep fast!) and then wake up early (without an alarm clock!). I would generally fall asleep by 8 or 8:30 and then wake up by 6:30 or 7. However, on the last day of the trip I wanted to get out the door extra early so that I would reach Santa Monica (the "finish line") by 1 or 2. The night before I had called the bike shop in Santa Monica and asked them to set aside a bike box for me that I needed to use to pack up my bike in preparation for shipping it. The guy at the bike shop agreed to set one aside for me but warned me that later in the afternoon they would all be disposed of.
Luckily, I made it to Santa Monica in plenty of time. I began the morning by riding through the Ventura/Oxnard area. The bike route runs inland around the edges of a naval base before returning to Route 1 and the coast. Unlike some of the more northern parts of the trip, the air warmed up quickly in the morning, and the smell of the salt air along the road combined with the brightly shining sun certainly made it feel like the home stretch. After riding past multimillion dollar houses on the beach and on the hills in Malibu, the "Los Angeles city limit" sign suddenly appeared, along with the faint outlines of a ferris wheel in the distance at the Santa Monica Pier. I rode the last few miles along a bike path that ran the length of the beach, all the way to Santa Monica.
After arriving in Santa Monica (and taking the picture above as proof that I made it!) I headed to the bike shop. They still had boxes left (phew!) and (with the help of one of the guys at the bike shop) I disassembled my bike enough to get it in the box. Erin met me at the bike shop and helped me get the bike box to the UPS Store, where I said goodbye to my bike and to the trip.
A couple of days later, my bike and I both made it safely back to San Francisco within a few hours of each other. To make the trip between San Francisco and Los Angeles this time, I took a slightly quicker route (Southwest!). All in all, this was a fantastic trip. It was challenging but not impossible; I'd recommend it to anyone that has an interest in bicycle touring.
Packing list
I had two rear panniers (bags that clip onto a bike rack in the back of my bike) and a tent and sleeping bag which I attached to the rear rack using bungee cords. The panniers contained clothes, books, maps, a U-lock, two spare tubes and tire irons (for fixing flat tires, although I amazingly never had one), a towel, toiletries, lots of snacks for the road (I finally found a Powerbar flavor that I like), headlamp, wallet, keys, and cell phone. I also carried a quart of water in two water bottles and a pump for inflating my tires.